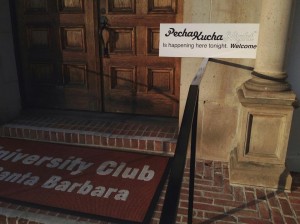 Event Date: April 26, 2012 at 7:00 PM
On Facebook: http://www.facebook.com/events/251187858310338/
We are pleased to host the 2nd PechaKucha Night in Santa Barbara at the University Club of SB.
Doors open at 7:00 pm, with presentations starting at 7:45 pm. A $5 donation to help pay for the venue will be accepted at the door. Drinks will be available for purchase at the bar inside the University Club.
We have some super interesting local individuals who are scheduled to present. Each presenter will be allowed 20 slides, with 20 seconds of talking time, per slide.
If you would like to present in future months, or know of a person who would, please send an email to contact@pknsb.org